South Shore or North Shore …You Be the Judge
In all the other Hawaiian islands all of the tourist hotels and most of the vacation rentals are on the south shores of the Islands. Kauai is unusual in that there are resorts on both North and South Shores. On the North Shore, most of the vacation rentals are clustered in Princeville, and on the South Shore Poipu is the only resort area.
To help visitors to Kauai we have put together the following comparisons between these two main visitor destination areas.
Poipu vs North shore weather:
Even though Kauai is a relatively small island the presence of Mount Waialeale and almost year-round North-eastern trade winds result in dramatically different microclimates in different parts of the Island. In order of dryness and amount of sunshine Kekaha at the west end of the island is the driest and sunniest, followed by Poipu the sunniest, driest tourist area of the island.
Based on the rainfall and native plants, Poipu is as dry as a desert (high deserts in Utah get 20+inches of rain, Poipu along the shore gets ~25").
During the winter, Poipu Beach and Lawai Beach are the best destinations for snorkeling due to the clear and calm water. More Kauai beach destination.
The northern parts around Kilauea, Hanalei, Wainiha are the rainiest parts of Kauai which makes them naturally lush and green. There is a rainy season (November – March) and a dry summer season (April – October). Most of the rainfall is typically nighttime and early morning (particularly along the south shore). In Kauai, you will find more variation in temperature with location, rather than with seasons.
The ocean temperatures change by several degrees at most between dry and rainy seasons and in recent years there has been an increase of several degrees in the average ocean temperature. In general the waters around North and Western shores in winter are rough and frequently get big waves from storms off Alaska.
Swimming in the North shore beaches during winter is dangerous, except inside the reef at Anini and in the protected parts of the Hanalei bay.
Location on Kauai:
Poipu and Princeville
Waters along the South shore beaches are much calmer in winter, with the exception of the rare southerly wind kicked up chop. Late Spring and Summer, surf heights are lower all around the island( south shore will still have lower wave heights) and the trade winds blow more consistently. The following table shows monthly rainfall and temperature averages for Poipu and Princeville areas.
The eastern part of the island ( Lihue and Kapaa) falls in between Poipu and Princeville. Finally, I would like to add a quote from a pool installer who was giving us a quote for our pool " I came to Hawaii from Nevada and I bought a house in Princeville- this is the whitest I have been in my life, there is not enough sun to get a tan in Princeville".
Also in 1975, a Club Med was established on the north shore but they lasted only about a year and a half because of the distance from other activities and lack of sunshine. Princeville is a planned resort community on the north shore of the island of Kauai and is home to the Princeville Resort and two golf courses.
The area was named in honor of an 1860 visit by Prince Albert Kamehameha (son of King Kamehameha IV and Queen Emma) [1]. It was then a sugar plantation owned by Robert Crichton Wyllie. Later it became a cattle ranch. It was sold for development in 1968 and its development since that time has been continuous.
Poipu was not a single landholding and as a result, its development has been different from that of Princeville, with the exception of Poipu Kai and Kihauna Condominiums, the remaining condominium associations are small ( no more than 30 units) and the houses are all individually built.
During the last couple of years, Alexander and Baldwin (C&H sugar and Matson Transportation parent) have joined forces with a mainland builder to build a planned community of million-dollar plus homes at the west end of the Poipu area ( Kukuila). However, given the economic conditions, it is highly unlikely that this development will be finished in less than a decade.
Average Solar Energy in Kilowatt Hours/square meter/day Month Princeville – Poipu Ratio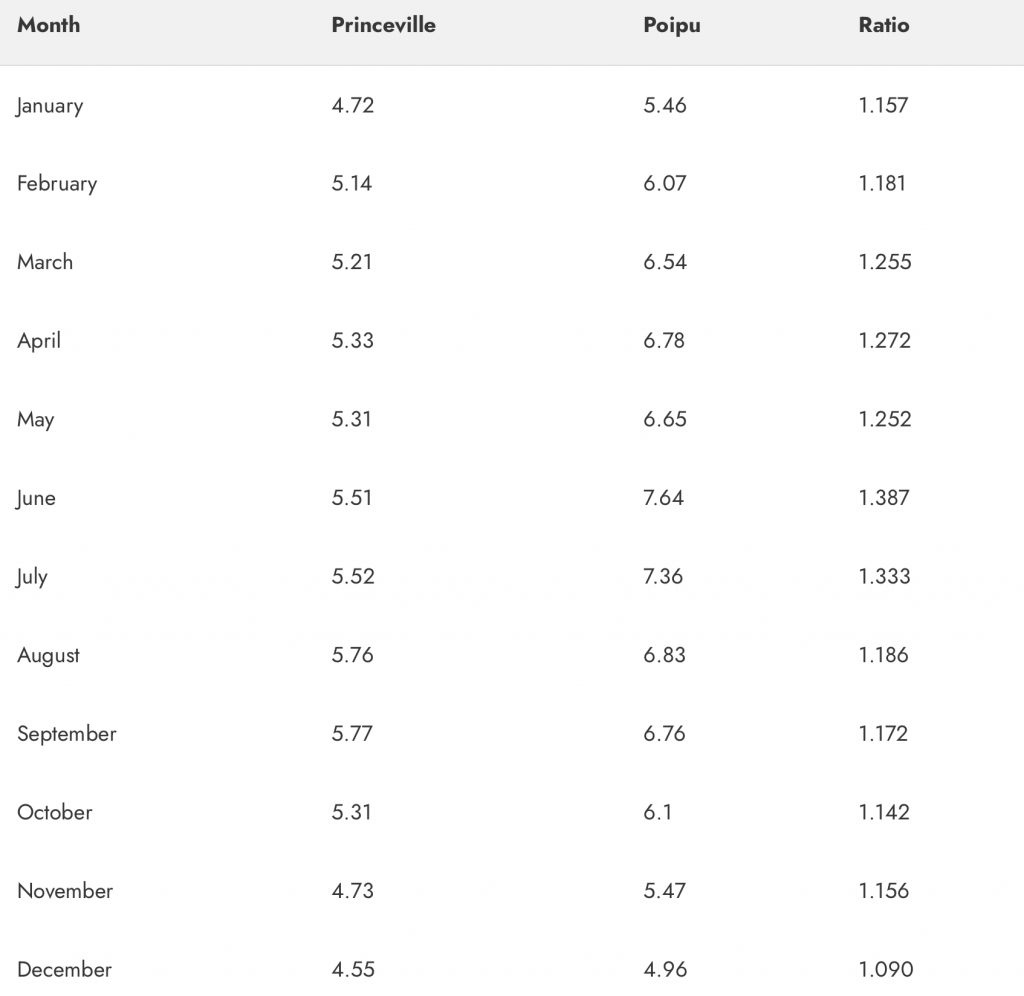 From: http://www.wunderground.com/calculators/solar.htm
Thus on average Poipu area receives 22 % more sun year-round than the Princeville area. The difference is especially noticeable during the months of June and July. These are the months in winter when the trade winds are strongest and bring a lot of rain to the north shore while the south shore stays dry. In terms of temperatures, the difference in sunshine typically translates to about five degrees higher average temperature in Poipu during winter and 3-5 degrees during the summer. The trade winds without their rain keep the temperatures in Poipu at comfortable low eighties as you can see from the above table
Transportation from the airport
Poipu
12 miles from the Lihue Airport and in less than 20 minutes you are in Poipu after leaving the Airport.
Princeville/Hanalai
35 miles from the airport and depending on the time of the day can take an hour to an hour and a half to get to.
Beach in the immediate vicinity
Poipu : Vacation homes and hotels in Poipu cover a quarter-mile wide strip paralleling the Poipu beach which is made up of several connected and reef-protected crescent lagoons stretching about three-quarters of a mile from the Baby Beach (Brenneke beach) to the front of Sheraton Hotel. There is a playground as well as a very shallow and well-protected children's lagoon. Snorkeling is excellent in very shallow waters. Baby beach is great for boogie boarding and the Sheraton area is a favorite with surfers. Hyatt hotel and the Shipwreck beach in front of it are at the very east end of the Poipu area. Shipwreck beach is a beautiful beach and a favorite among boogie boarders and surfers but is good for swimming only if you are a good ocean swimmer. Towards the west end of the Poipu area, there is another excellent snorkeling beach, Lawai beach, on the way to spouting horn. For locals and repeat visitors the best beach is Mahaulepu, which is about three miles on a sugar cane road from Hyatt Hotel parking. At Mahaulepu, you can watch kite surfers, windsurfers and have your private shady corner. Mahaulepu beach stretches for about a mile and if you continue walking east for another mile and a half there are two other secret beaches you can hike to.
Princeville: The nearest swimmable beaches to Princeville are the Hanalei Bay and Anini beach park each one is about a ten-minute drive by car. Hanalei bay is a beautiful crescent bay protected by a reef a couple of hundred yards offshore. The beach park area is safe and suitable for all ages. However, the water around the beach park is not crystal clear due to wave action stirring the sand. Anini beach park is protected by about a mile-long reef with a shallow protected lagoon on the inside. Suitable for swimming and snorkeling, if you swim out to the reef about 40 yards offshore. During high waves, there is a strong current at Anini beach. Others: There are a number of beaches past Hanalei- Lumahai, Tunnels, Kee are the easily accessible ones, plus a large number of small secret beaches you can not drive to.
Poipu and Koloa: have many more shops to choose from. Grocery stores: Big Save and Sueoka in Koloa town. Poipu Shopping Village and The Shops at Kukui'ula mails are among the most popular malls with gift shops, souvenirs, and restaurants.
Hotels for Weddings Meetings etc. Poipu has Hyatt, Marriott, and Sheraton Hotels all within a two-mile strip.
Princeville: has Princeville Hotel ( has become St Regis Princeville resort) and Westin Princeville Villas. Hanalei near Princeville has souvenir shops and local artists shops.
Princeville: Hanalei Bay, Lumahai beach, Kee beach, Tunnels beach
Poipu: Waimea Canyon, Pollihalle beach, Kalalu Valley, Kokee Park
Princeville: 3 courses ( Makai, Mauka and the Prince)
Poipu: Poipu Bay ( used to be PGA grand Slam), Kiahuna golf and Kukuiolono (the cheapest and most scenic golf course in all of Hawaii) courses.
Other activities: Both locations have numerous other activities such as guided horseback tours, Kayak tours, Boat tours to Napali coast, kayak tours, surf lessons etc.
Poipu also has evening and day time catamaran cruises (sunset and whale watching).